Trio Såœra
14 February 2019 @ 7:30 pm

-

9:30 pm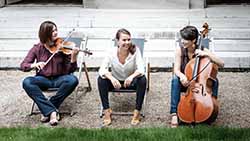 TOUR 14, 15, 16 FEBRUARY
WELLHAYES – BRIDPORT – ILMINSTER – CREWKERNE
THURSDAY

14 FEB

7.30PM

X

WELLHAYES VINEYARD
Wellhayes Farm

Clayhanger – TIVERTON

Devon – EX16 7NY

FRIDAY

15 FEB

11AM

BRIDPORT ARTS CENTRE

South Street – BRIDPORT

Dorset – Devon – DT6 3NR

FRIDAY

15 FEB

7.30PM

ILMINSTER ARTS CENTRE

East Street – Ilminster

Somerset – TA19 0AN

SATURDAY

16 FEB

7.30PM

THE DANCE HOUSE

Gouldsbrook View

North Street – CREWKERNE Somerset – TA18 7AL

TRIO SÅŒRA
PAULINE CHENAIS PIANO
MAGDALÄ'NA GEKA VIOLIN
ANGÈLE LEGASA CELLO
CLARA SCHUMANN

Piano Trio
in G minor, Op 17

BRAHMS

Piano Trio No 1
in B major, Op 8 (BAC)

BEETHOVEN

Piano Trio No 1 

in E-flat major, Op 1 BAC)
BAC = BRIDPORT ARTS CENTRE. THE FULL PROGRAMME
WILL BE PERFORMED AT THE EVENING CONCERTS.
We are delighted to welcome TRIO SÅŒRA to Concerts in the West for the first tour of the 2019 season.
Based in France the Trio has won several awards including Lauréat HSBC 2017 at the Festival d'Aix, and a special prize at the Verbier Festival Academy 2018.
Recently they have been given a Parkhouse Award enabling them to perform at Wigmore Hall and the Purcell Room in the Autumn 2018.
Tickets will go on sale from 7 January. For details about venues and booking please go to 
Booking/Venue Info