Jubilee String Concert
31 May 2018 @ 7:30 pm

-

9:30 pm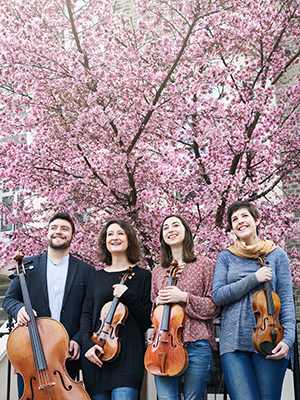 TOUR 31 MAY, 1, 2 JUNE 2018
HATHERLEIGH – BRIDPORT – ILMINSTER – SHUTE
THURSDAY
31 MAY
7.30PM

LOWER PULWORTHY
Highampton – HATHERLEIGH
Devon – EX21 5LQ

FRIDAY
1 JUNE
11AM

BRIDPORT ARTS CENTRE
South Street – Bridport
Dorset – DT6 3NR

FRIDAY
1 JUNE
8PM

ILMINSTER ARTS CENTRE
East Street – Ilminster
Somerset – TA19 0AN

SATURDAY

2 JUNE
7.30PM

ST MICHAEL'S, SHUTE

Haddon Road – Shute
Nr AXMINSTER – Devon –
EX13 7QR
JUBILEE STRING QUARTET
TEREZA PRIVRATSKA violin
JULIA LOUCKS violin
LORENA CANTÓ WOLTÈCHE viola
TOBY WHITE cello
HAYDN

String Quartet in C, Op 54 No 2

BEETHOVEN

String Quartet, Op 18 No.1

SCHUBERT

String Quartet No 14 in D minor
(Death and the Maiden)

HAYDN

String Quartet in G major, Op 64 No 4 (BAC ONLY)

JANĀČEK

String Quartet No 2,
(Intimate Letters) (BAC ONLY)

BAC = BRIDPORT ARTS CENTRE
The full programme will be played at the evening concerts.
The Jubilee String Quartet were first prize winners of the Val Tidone International Chamber Music Competition 2010 and the
St Martin's Chamber Music Competition 2013. They also won prizes at the Karol Szymanowski International String Quartet Competition 2014, and Trondheim International Chamber Music Competition 2013. In 2012 the quartet were finalists in the Joseph Joachim International Chamber Music Competition, Weimar, and in 2013 and 2015, in the Royal Over-Seas League.This prize-winning Quartet was formed in 2006 at the Royal Academy of Music. They held a Leverhulme Chamber Music Fellowship there during 2012-13, and the Richard Carne Junior Fellowship at the Trinity Laban Conservatoire of Music and Dance during 2013-14.We welcome the Quartet for the first time to Concerts in the West.
REVIEW