Eusebius Quartet
5 September 2019 @ 7:30 pm

-

9:30 pm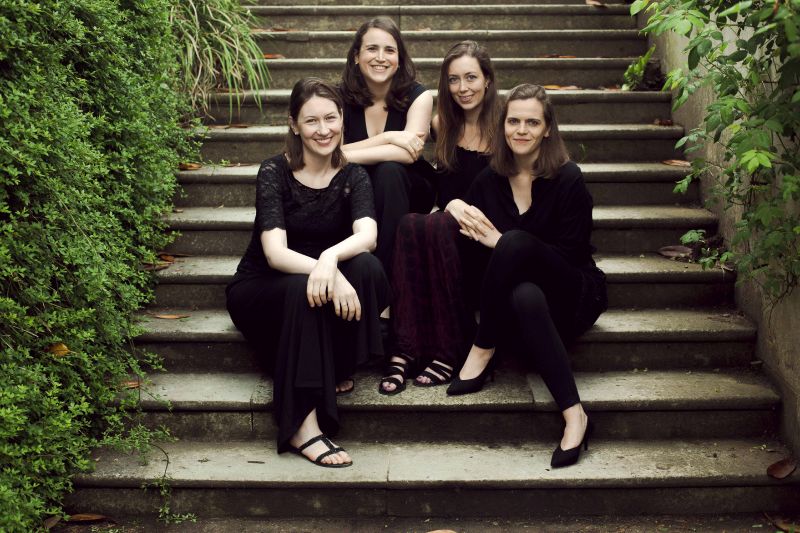 TOUR 5, 6, 7 SEPTEMBER
BISHOPS HULL – BRIDPORT – ILMINSTER – CREWKERNE
THURSDAY

5 SEPT

7.30PM

SS PETER & PAUL CHURCH

Bishops Hull – TAUNTON

Somerset – TA1 5EB

FRIDAY

6 SEPT

11AM

BRIDPORT ARTS CENTRE

South Street – BRIDPORT

Dorset – DT6 3NR

FRIDAY

6 SEPT

7.30PM

ILMINSTER ARTS CENTRE

East Street – ILMINSTER

Somerset – TA19 0AN

SATURDAY

7 SEPT

10.45AM

Richard Huish College

South Road – TAUNTON

Somerset – TA1 3DZ

Workshop for students

SATURDAY

7 SEPT

7.30PM

X

THE DANCE HOUSE

Gouldsbrook View

North Street – CREWKERNE Somerset – TA18 7AL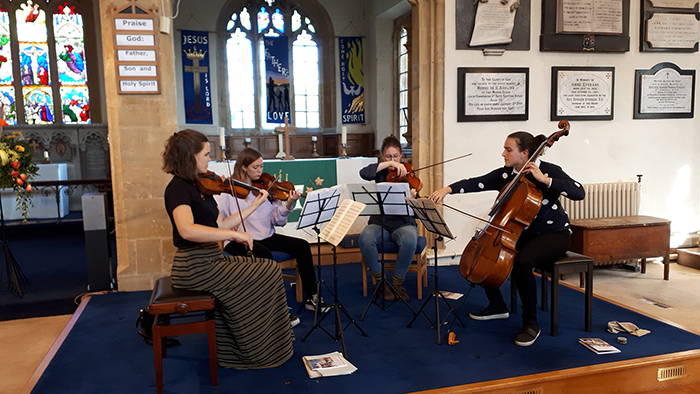 EUSEBIUS QUARTET
BEATRICE PHILIPS VIOLIN
VENETIA JOLLANDS VIOLIN
HANNAH SHAW VIOLA
HANNAH SLOANE CELLO
HAYDN

X

String Quartet No 6
in A major, Op 9

BARTÓK

String Quartet No 6, Sz 114

BEETHOVEN

X

String Quartet No 15
in A minor, Op 132

MOZART

X

String Quartet in D major,

K 499 'Hoffmeister'

(BAC only)

SCHUMANN

X

String Quartet No 2 in

F major, Op 41 (BAC only)

BAC = BRIDPORT ARTS CENTRE.
HAYDN, BARTÓK AND BEETHOVEN WILL BE PERFORMED AT THE EVENING CONCERTS.
Formed in 2015 the EUSEBIUS QUARTET were finalists in the 2018 Royal Overseas Competition. They enjoy exploring new repertoire and experimenting with new styles of playing. They have performed with Alasdair Beatson (who joins us in May) and clarinetists, Matthew Hunt and Michael Collins amongst others.
They are keen to share their love of chamber music with young people; setting up several projects with schools in London and Lewes. They will be working with the Centre for Young Musicians Taunton on this tour.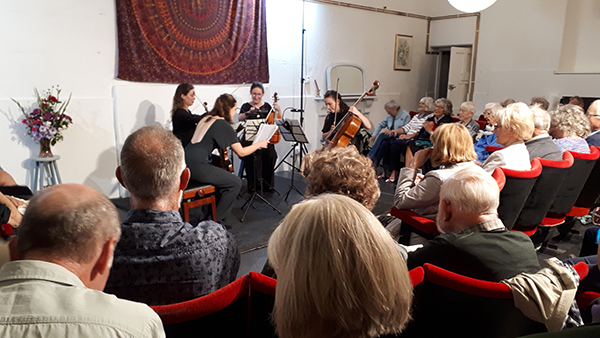 CREWKERNE